Harry's list of the 5 Essential China Miéville Stories.
Since the late nineties, China Miéville's speculative fiction has broadened the horizons of what we understand fantasy to be. Frequently tapping into pulpy science fiction and fantasy in the vein of Gormenghast, Miéville's stories brought weird fiction to the forefront. His works are inventive and always engaging. Here are five of his stories recommended for first-time readers.
The City & The City
The City & The City is Miéville's most approachable novel. Written from the perspective of a hard-boiled detective, the story explores two cities which share the same geographic space despite being different political entities. Citizens are trained to recognise the architecture, fashion and language of their own city, while ignoring the other. When a murder investigation crosses the both Besźel and Ul Qoma borders, secrets and half-truths are brought to the forefront. It's an incredible book which explores the folly of bureaucracy, and shines a light on that which we choose to ignore.
Railsea
Never one to be hemmed in by genre, Railsea is his young-adult take on Moby-Dick. Ships are replaced with trains, the ocean replaced with a sea of train tracks, and the white whale becomes a giant, ship-sinking albino mole.
A lot of the groundwork for Railsea was laid down in his earlier 2002 Bas-Lag novel The Scar. A small world-building detail from that novel becomes fleshed out into an entire story here, and the swashbuckling adventure is replicated as well. Railsea is inventive, excellently paced and balances smaller character moments with a lighter tone than some of his adult novels. It's an excellent entrypoint for teenagers and adults alike- intelligent, funny and socially conscious in spades.
The Last Days of New Paris
A short novella featuring a surrealist exquisite corpse by Andre Breton, Jacqueline Lamba and Yves Tanguy on its cover. The novel proves oddly meta- first by featuring this cover artwork within the story itself, secondly by an afterword that retells how the story was initially told. There is truth in this fabrication.
The synopsis of this story is a lot to take in. During WWII, an S -(Surrealist)- Bomb is dropped on Paris, gifting life to the artwork of the city. Paris's art fights back against the Nazis, who have also opened the gates of hell to summon demons into the fight. WWII is still raging deep into the 50's.
This alternate history is deliberately wild- drawing the focus onto art, and particularly surrealism- as a form of protest and rebellion. It's a deeply dense book- exploring a variety of ideas in a rapid one hundred and eighty or so pages. A perfect snapshot into Miéville's unique and imaginative approach to worldbuilding.
The Tain
One of Mieville's earlier works, this novella is now more easily accessible in the 2005 Looking for Jake collection. The Tain explores a London under attack by an enemy that humanity has never quite faced before – imagos. Beings that live just beyond the mirror. Angry at being imprisoned in our shapes.
It's a pulpy prospect, but Miéville never loses the sense of drama and terror that premises such as these can bring. We see from both perspectives, spending time with both the humans and the imagos. This is a post-apocalyptic London with a brooding atmosphere and an unsettling enemy that causes introspection and re-evaluation. At a rapid ninety-pages, it's a perfect way to spend a couple of hours.
Perdido Street Station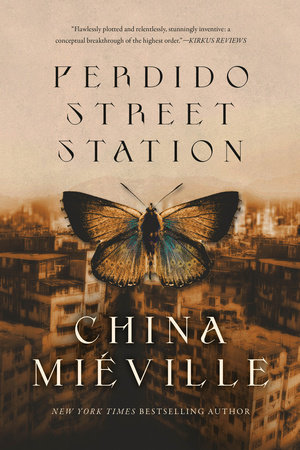 The keystone Miéville novel. This entryway into the world of Bas-Lag heaves with invention. The city of New Crobuzon is frighteningly well realised, its government scarily oppressive. Cactus men rub shoulders with scarab-headed Khepri. A cosmic spider known as the Weaver spins new webs of reality while speaking constantly in free verse. Slake-Moths drain people's minds. Mieville juggles enough ideas to power an epic fantasy series, and here condenses them into a single weighty volume. It's a beautiful drawn world, and an amazingly detailed city.
Any of Mieville's stories offer something fresh and unique. He never uses a trope or staple without re-invention. For fans of fantasy, he can act as a doorway into weird fiction, any of his stories well worth the visit.
Related to: 5 Essential China Miéville Stories